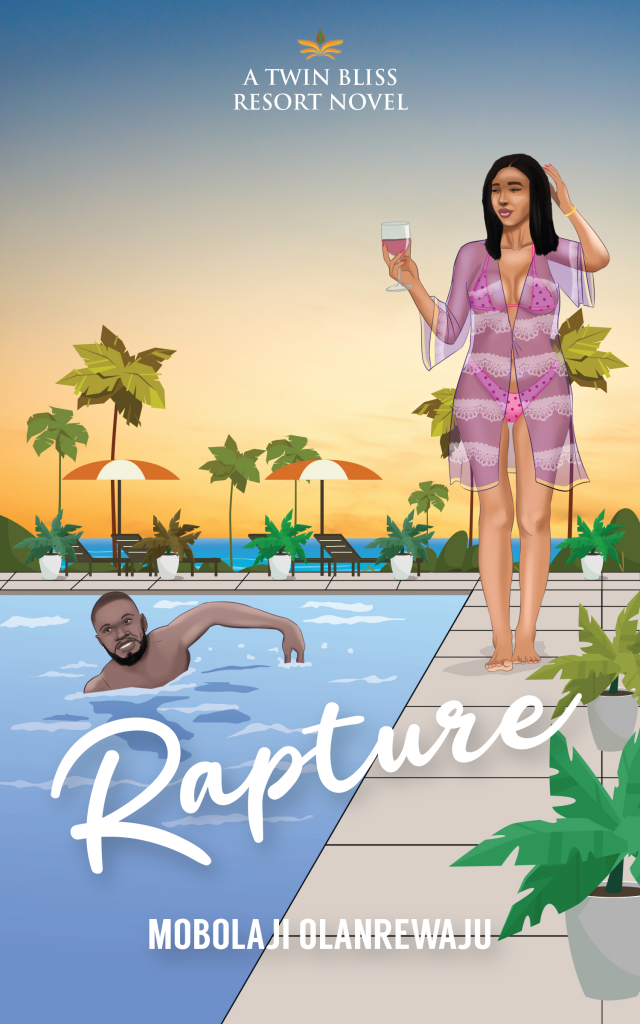 Alpha males, stunning heroines, baggage full of wits, humor, and thrilling dramas, the Twin Bliss Resort, a picture-perfect destination surrounded by the waters of Gobota Island, is the perfect getaway for a romantic vacation…or so it seems.
Rapture is available on the below digital stores in both electronic and print copies.
AMAZON/ GOODREADS|KOBO | BAMBOOKS |OKADABOOKS |
Love is in the air. The season is here again. That special month where you pamper yourself and your loved ones. One of the best ways to show love to that special friend is to buy them a book as a Gift.
If you are looking for magic, adventure, murder, betrayal, love, and passion, Twin Bliss Resort Novel series has something for all romance lovers.
RAPTURE is a standalone romantic suspense novel in the Twin Bliss Resort Multi-Author Novel series. It is written by Mobolaji Olanrewaju.
Chapter one is available for free on this post.
The first seven chapters are available for free on okadabooks.com
Excerpts from "Rapture"
"I know it is all about your woman." He laughed, swirling his gun. "I have never seen you beg in your life. So, you have a heart that beats, eh? One that can beat for a woman?" He pointed the gun at Sappirah as he spoke. "I thought nothing could penetrate your armour. You wey dey form say we kee your brother, you noh cry for your brother burial oh."
I winced at that and wasn't surprised they were at the burial.
When we strike, we strike to kill. We are never known to do shoddy jobs because the penalty for a mistake is death.
THE BLURB
Asher Fabian had a dark past. The dreams were becoming scarier and more urgent. A chance meeting with his executive Assistant, Lishan's sister, Sappirah Wilson and the dreams came to an abrupt stop. What does she have to do with his dream?
After her fiancée cheated on her, Sappirah Wilson decided she needed someone else to achieve her plan. She needed to leave a legacy for her Twin brother, Lishan. Asher seemed the perfect candidate. Can she achieve her it with the help of the legendary marula?
A trip to the Twin Bliss Resort seemed like the perfect venue to achieve their plans. Sparks fly and there is sizzling passion. But time, fate and an unknown foe from the past become obstacles set to keep them apart forever.
BOOK REVIEW 📚
📖Rapture (A Twin Bliss Resort Novel)
✍🏼 Mobolaji Olanrewaju @mobolaji.o
"She appears when things were the toughest for me—whether in my dreams or reality—always. A comforting presence I've subconsciously come to rely on. It soothed my soul and calmed my frayed nerves.
I couldn't place her face, but it was familiar. It was probably my subconscious mind conjuring comforting images. And it had to be a woman."
Asher Fabian and Sappirah Wilson are destined for each other but meet on deception through Sappirah's twin brother, Lishan.
From deception to love, something beautiful is formed at the Twin Bliss Resort.
A skeleton from the past lurks in the shadows and threatens to destroy what they have.
For destiny to be fulfilled the past will have to reunite with the present. Will destiny have its way and will the legendary Marula do its magic as it's known for?
My third Twin Bliss Resort Novel and as usual it's lit 🔥.
I like the connection the twin bliss resort novels have in characters aside the twin bliss resort and the Marula legend.
Big ups to all the writers
An enemy wanting to extract his pound of flesh
An unknown guardian angel
A skeleton from the past
A weak heart
An honest plea to God for help
A blend of traditional and modern
A fulfillment of destiny
Steamy 🔥🔥, engaging, suspense- filled
Reading this novel felt like watching Korean drama. The type that blends the Joseon dynasty and the city life and that did it for me🔥🔥🔥🔥🔥
Rating:
5 ⭐️
"Live for the moment. It doesn't last forever."
"It's not every story you hear that's true."
"The will to live lies with her. She may decide to come back to us if she has enough reason or slip away when her time on earth is spent. It is beyond our power."
A big thanks to @mobolaji.o for giving me this eARC in exchange for an honest review.
The hard copies will be available in Lagos, Nigeria by the 31st of March. If you are interested, kindly pre-order here. The delivery fee within Nigeria will be borne by the buyer. It is NGN 4,000 but after 31st March, the price goes back to the original price of NGN 4,500.